(Jump)suit 1.1 - Blue Wool Linen - Sold Out
£385
This is a one-off, community price, priced with 30% lower margins than industry-standard. Reserve your (jump)suit from June 12th, by placing a 50% deposit.
It's a jumpsuit-suit hybrid, that brings together the best parts of 'workwear'.

Hard-wearing, with 30 top-grade stainless steel snap buttons. Versatile, with 5 pockets, an adjustable waist and trouser leg, and 6+ ways to wear it. Luxurious, crafted from natural, italian deadstock fabrics, with intricate tailoring.

Wear it as a jumpsuit. Or a suit. Peplum up. Peplum down. Relaxed, barrel leg. Or smarter, tapered leg.


Designed in collaboration with Natàlia Barros Vives.
The jump(suit) is sold as a unit - select your size in both pieces before adding to cart.
+ The (jump)suit is designed to be an integrated unit. Although it is made up of two seperate pieces, each has been purposefully designed to 'click' together.

+ The waist is tapered, meaning it hugs the waistline of the trousers, rather than hangs.

+ The jumpsuit has a 'clean' finish with minimal topstitching.

+ The unit has reinforcement (technically known as fusing) in the collars, cuffs, hems, and trouser peplum.

+ The sleeve cuffs, waistband, and trouser hem can be worn tight, close-to-skin, or looser, for a relaxed feel.

+ Tailoring possibilities are as follows:
(a) Trousers can be lengthened by max 2cm
(b) Trousers can be shortened by max 0.5cm
(c) Jacket sleeves cannot be lengthened
(d) Jacket sleeves can be shortened by 1cm

You can lengthen/shorten more than this if you need (excluding "(c)"), but doing so will mean you lose poppers / reduce popper functionality. For more info, email us on letters@kindregards.co.
Yas is 5'7, a size UK 8, wearing a size UK 10 for an oversized fit. For a normal fit select your own size. (And look at the photo's of customers below, for how it fits true-to-size). For soft launch, we offer UK 8-16. We will be expanding our size range soon.

THE JACKET
The jacket is boxier in the shoulder, and has a tapered shape towards the waist. It is accommodating of broader shoulders.

THE TROUSERS
The waist is adjustable - and can be tightened to almost one size down using the internal mechanism. The barrel shape is accomodating of wider hips, so only size up if your hip measurements exceed that on the size guide. And if you do need to size up on bottom, remember, the waist can be cinched.
FABRICS
All fabrics are deadstock, meaning they are end-of-roll and one-of-a-kind.

Navy Wool-Linen
This (jump)suit is made from 50% wool, 50% linen, and has a weight of 267 gsm, giving it a medium-weight, yet fluid feel. The wool-linen mix makes it beautifully transitional, and it thrives from Spring through Autumn. It creases in a natural way, with the wool content having a softening impact on the usually, very crispy, linen crease.

Yellow Cotton
This (jump)suit is made from 100% cotton, and has a weight of 167gsm, giving it a light-weight, airy feel. The fabric is best suited to Summer, but layers well for Spring/Autumn. It creases exactly like a shirt would - in a natural, and well-worn way.

Brown Cotton
This (jump)suit is made from 100% cotton, and has a weight of 190gsm, giving it a structured feel. The thicker-than-a-shirt weight makes it beautifully transitional, and it thrives from Spring through Autumn. It creases in a natural, well worn way.

FASTENINGS
30 stainless-steel snap buttons with a zip for the trouser fly.

ADJUSTABILITY
The trouser and jacket cuff can be tightened for a smarter look. The waist be tightened (to almost one size down) for a cinched, strong-peplum feel. Or wear loose for a relaxed feel.

As a carefully crafted item, we would recommend a cold, hand wash or a dry clean. The navy wool-linen is dry clean only. Putting wool in the washing machine is a terrible idea.
Pay 50% now to reserve and pre-order your (jump)suit.

We'll then go into production, with our small-scale factory partner in North London. This will take 7-8 weeks.

When your item is almost complete, you'll pay the final 50%, and we'll ship your item.

This allows us to minimise waste, and grow responsibly. Good things take time, but we'll keep you updated through regular emails.

Currently we ship worldwide - shipping is free for UK, calculated at checkout for every other country. Check our Help & Support page for more information. This is our soft launch, and so we are not covering customs/duties charges. Please bear this in mind if you are buying from outside of the UK.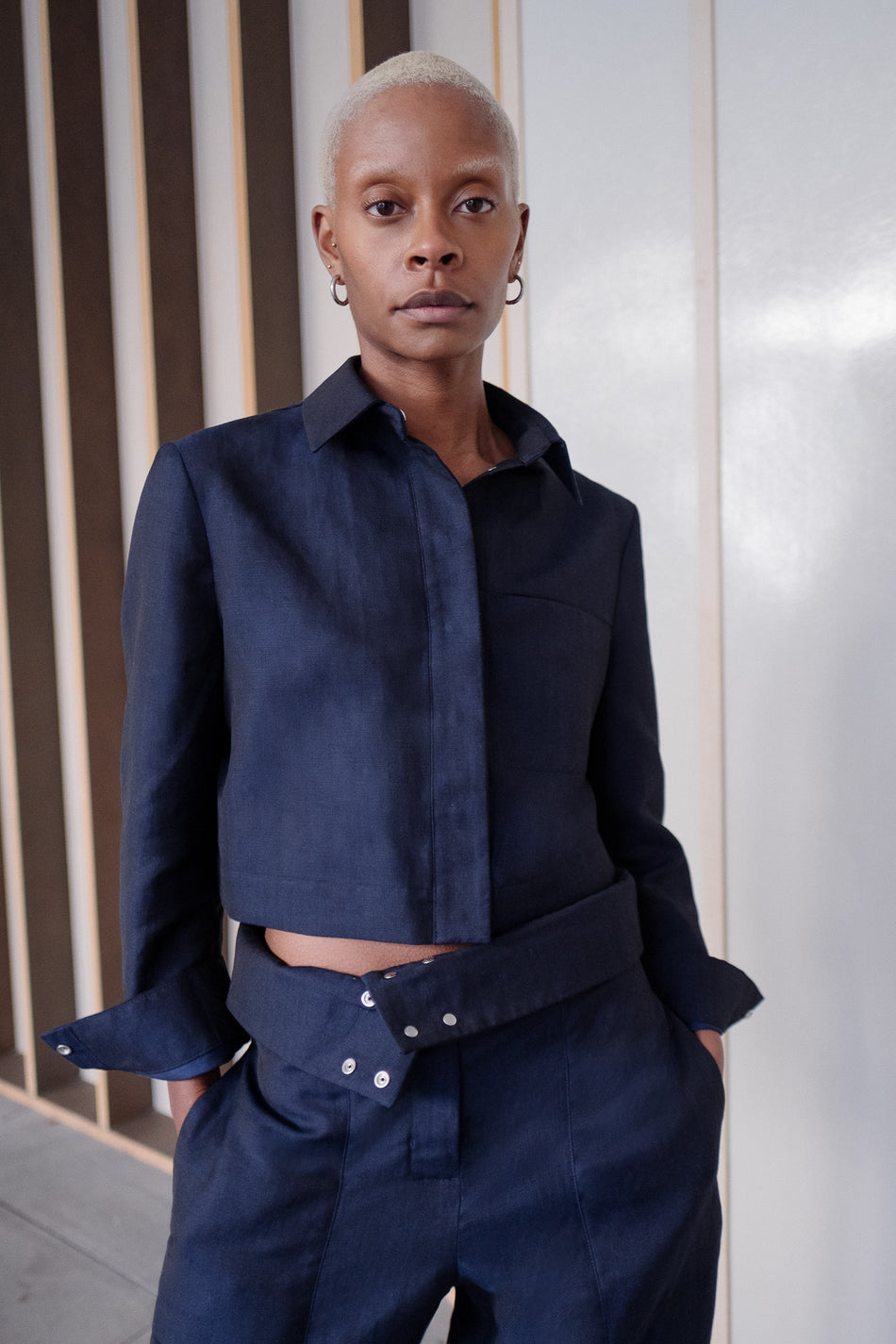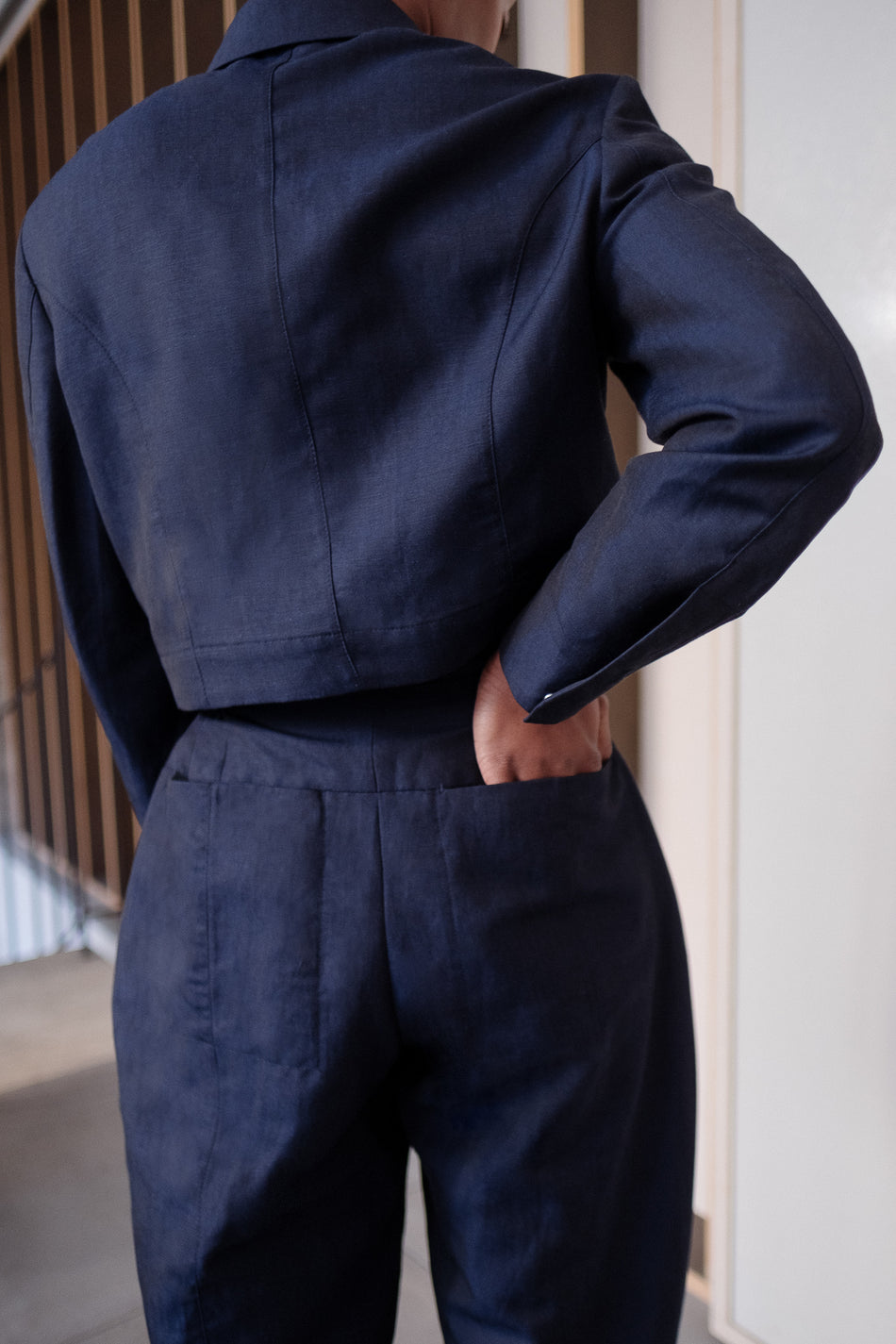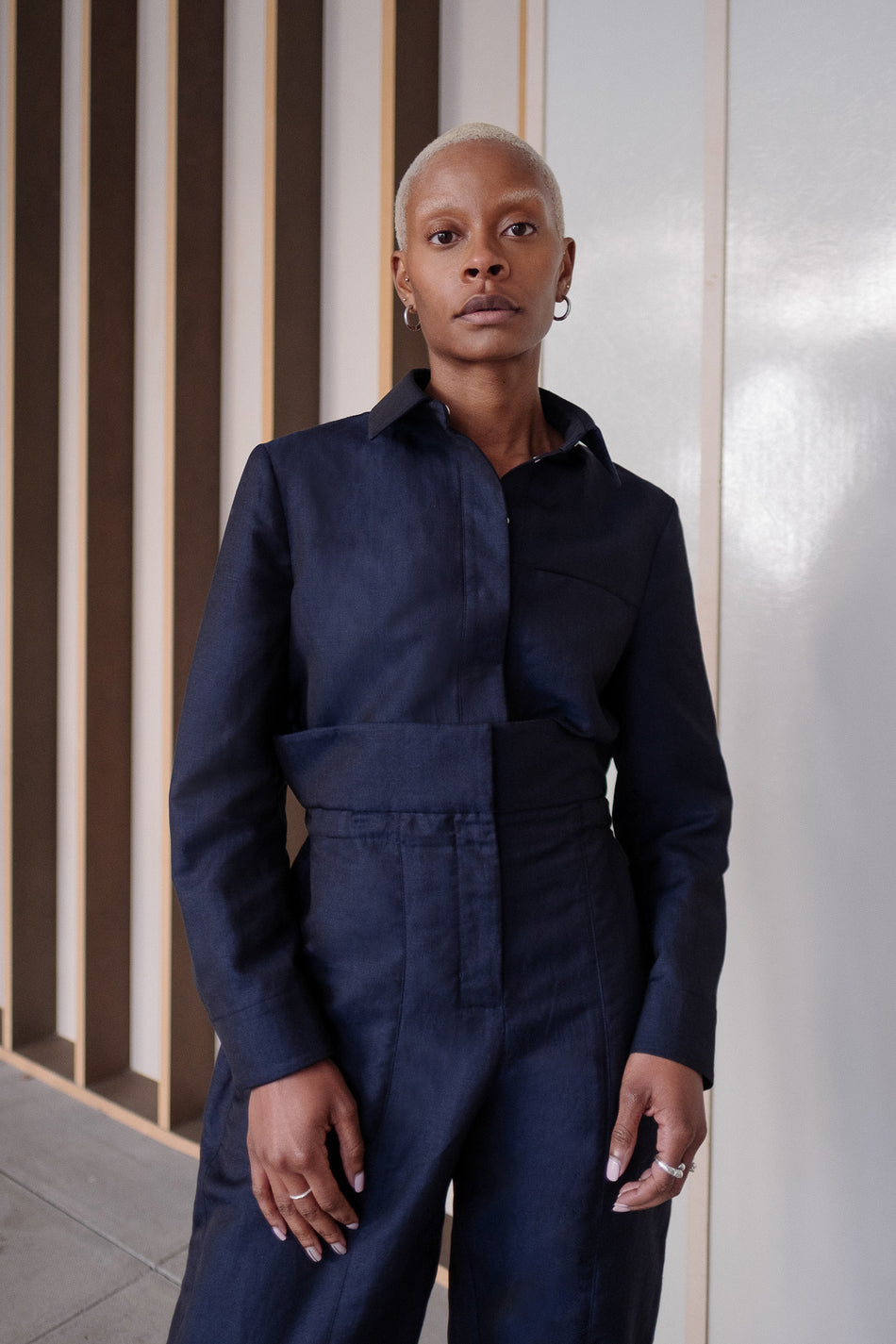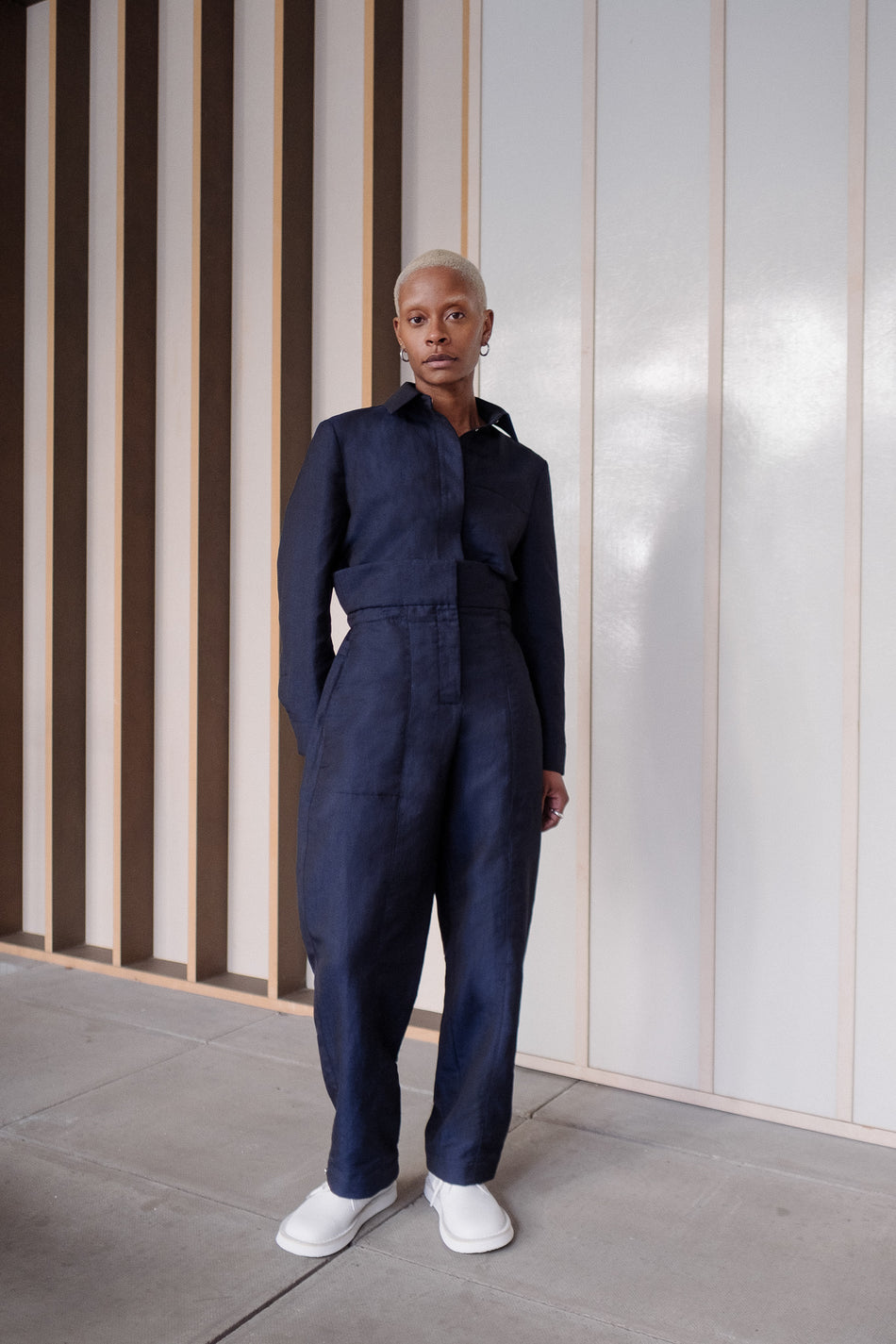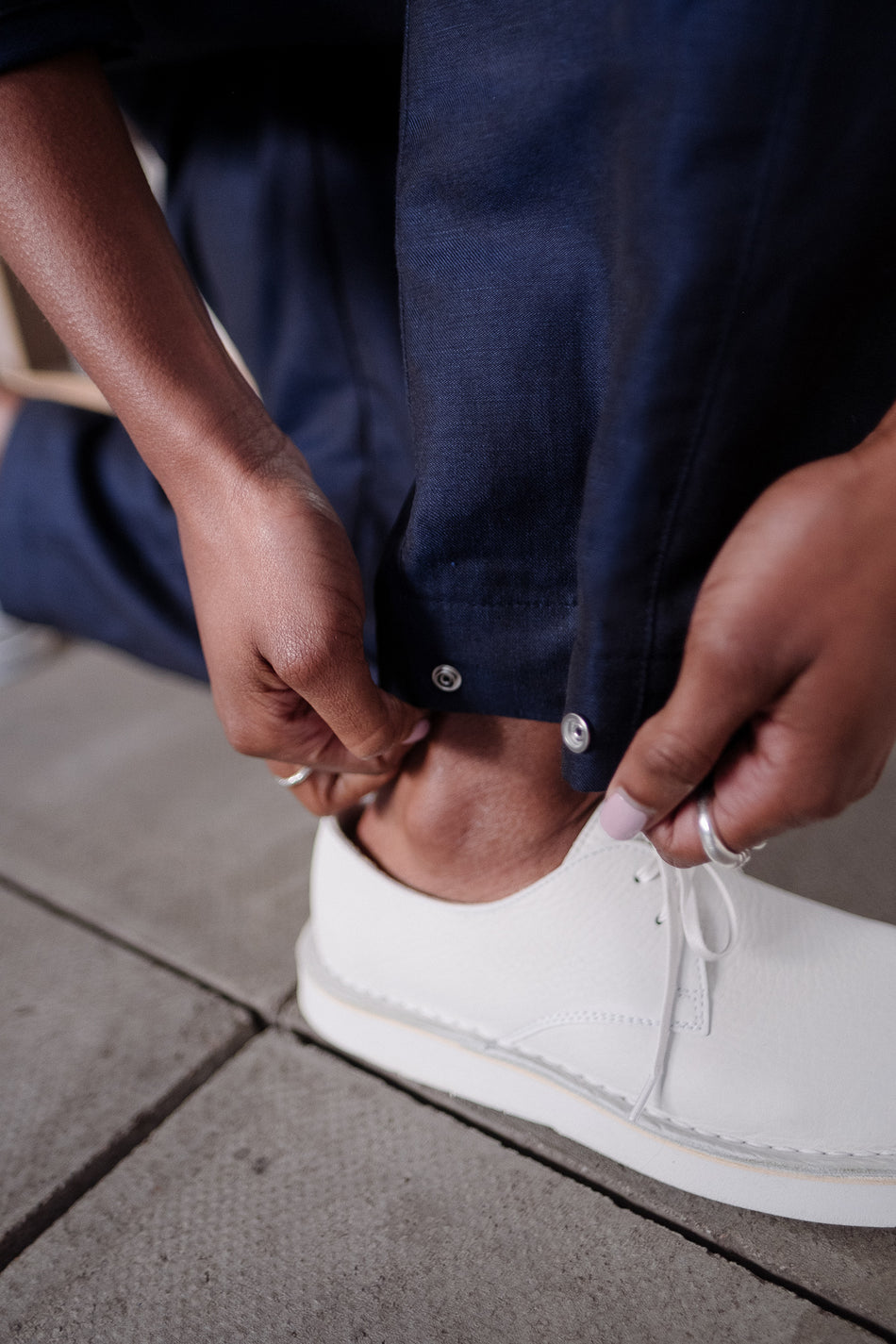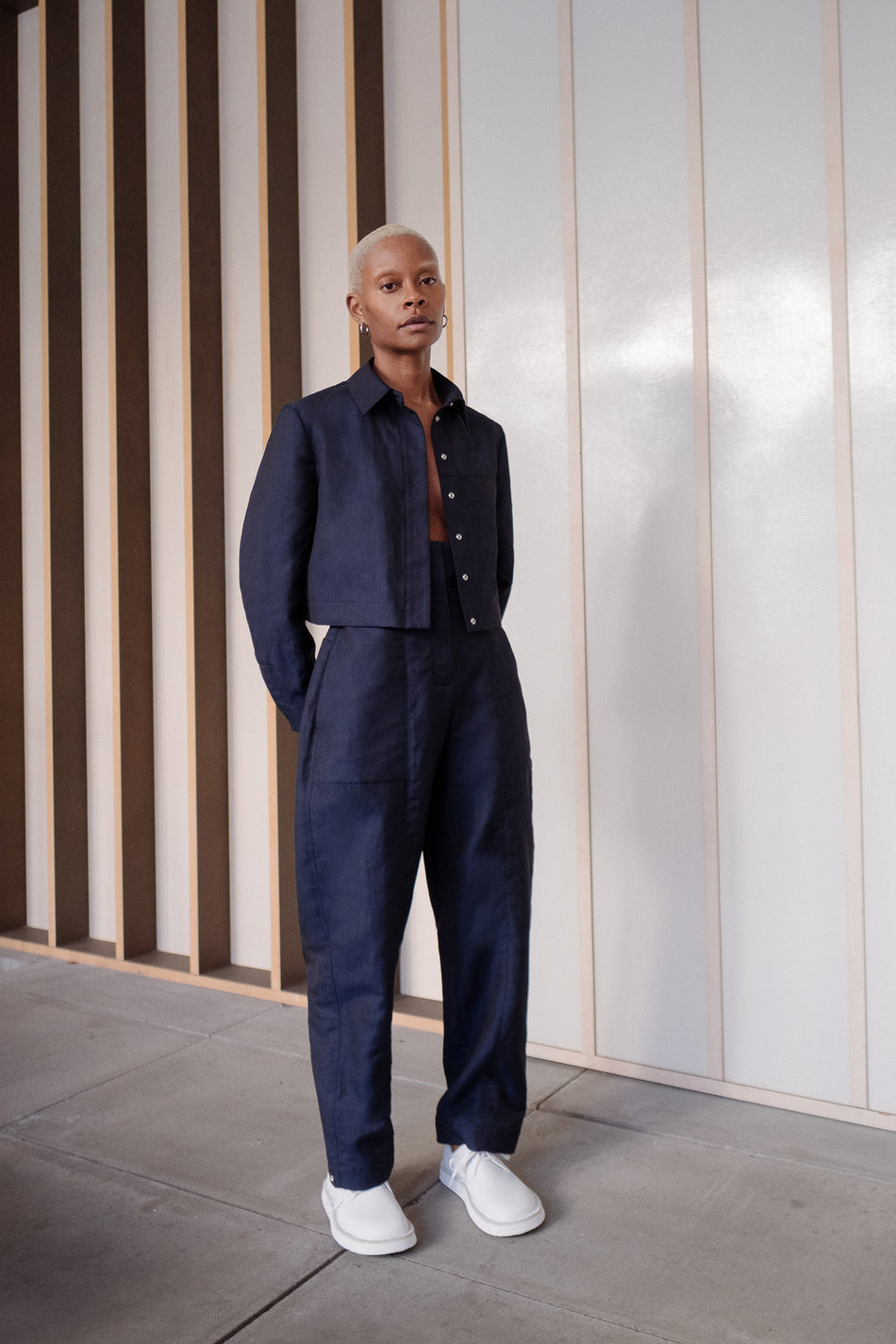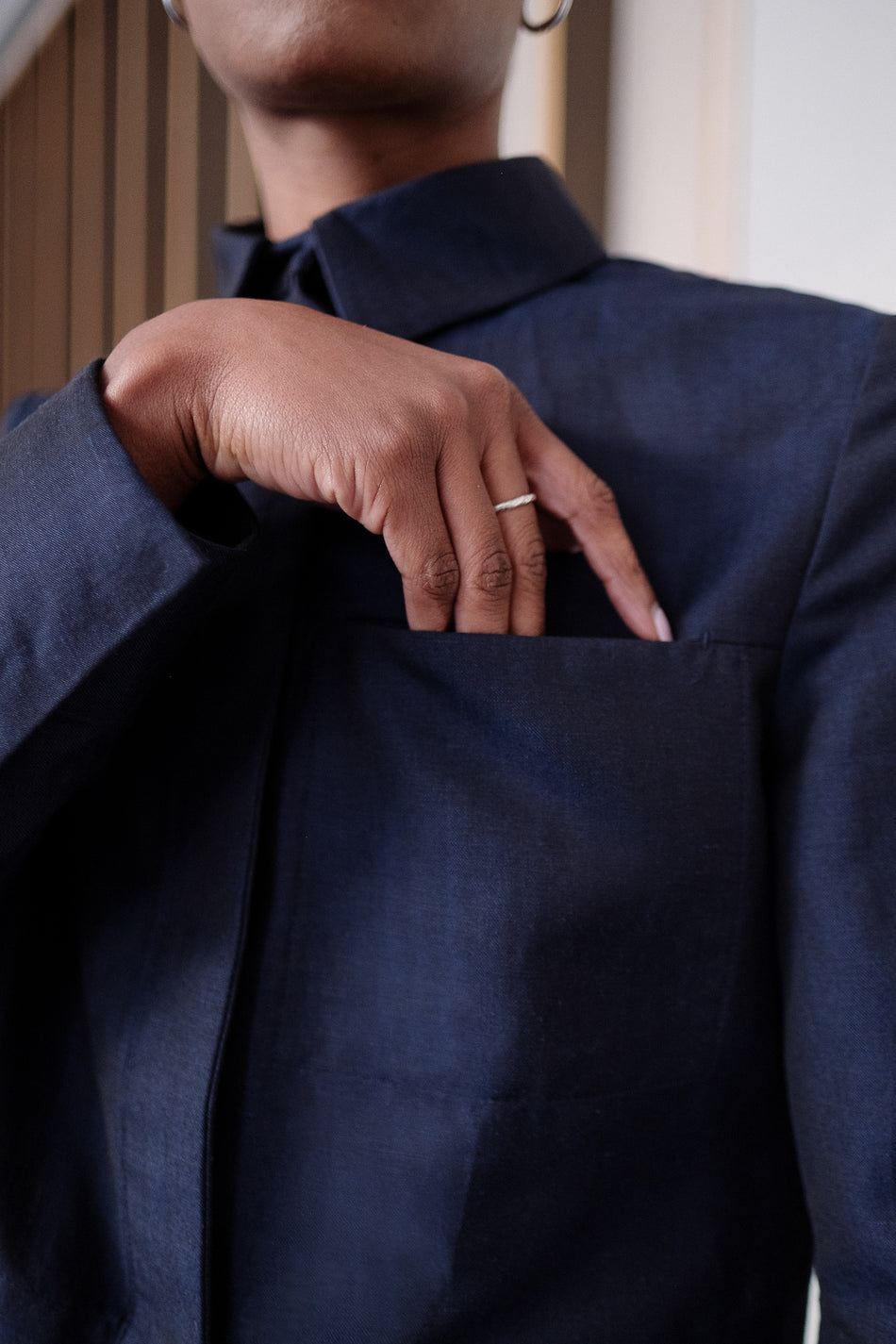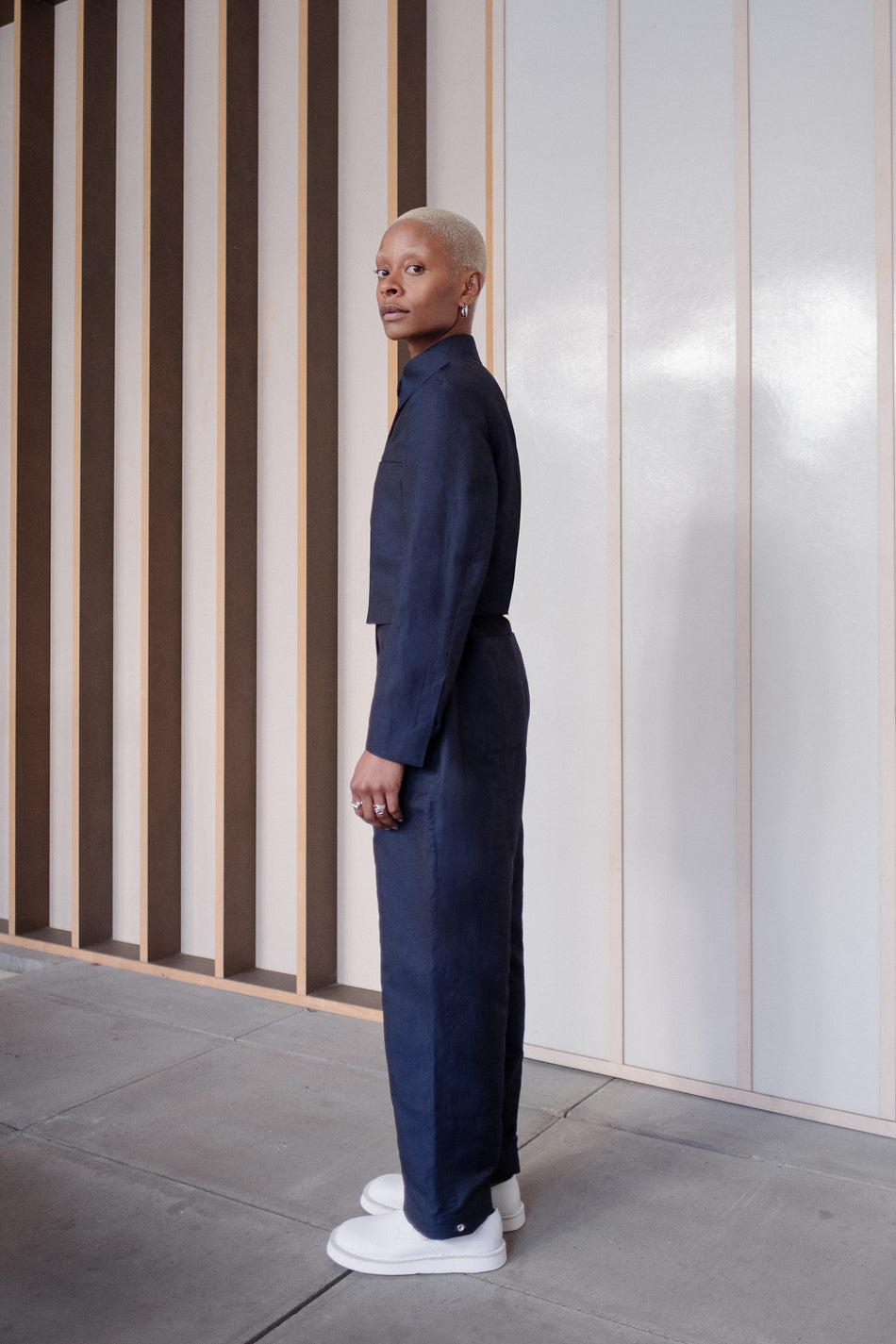 SECTION 01
DETAILS MATTER
Sourced from Italy, with 30 snap buttons, and adjustable, everything.
RESPONSIBLY SOURCED.
The fabrics are deadstock - quality, end-of-roll fabrics - sourced from Italy, and constructed using heritage tailoring techniques.
POP, POP, POP.
Buttoning the (jump)suit up is a ritual. Bringing an element of historic 'workwear' to the modern day, the (jump)suit is adorned with italian snap buttons.
MEETINGS TO MARTINI.
"From day to night" takes on a new meaning. Wear it as a jumpsuit. Or a suit. Peplum up. Peplum down. Relaxed, barrel leg. Or smarter, tapered leg.
SECTION 02
STYLING INSPIRATION
At the office, on the school run, at the studio.
(From L-R) -. Melis is 5'7, a UK 10, wears a size 10. Jo is 5'9, a UK 10, wears a size 10. Sally is 5'9, a UK 10, and wears a size 10. Shope is 5'6, a UK 6, wears a size 10 for an oversized fit.
SECTION 03
COMMUNITY FEEDBACK
Designed in conversation with dynamic women.
01
"You might have made the perfect barrel trouser. The fold up or down peplum is a beautiful touch."
02
"I like a piece of clothing, that's like, one-and-done. Put a white tee on underneath. Done."
03
"The adjustability does it for me. I snap the waist tight, and the ankles in, for a more refined look."
04
"The [linen-wool] is so comfortable. That's the first thing I'm noticing. It feels luxurious on my skin."
SECTION 04
INAUGURAL CUSTOMERS
Every customer that purchases during soft launch will be welcomed into our inaugural group, standardly reserved for our private network. A few weeks post-purchase, you'll receive a letter through the post explaining what this means. Here's a hint - it's not about 'exclusive perks' and dinners (though there will be plenty of those). It's about ownership.